Conference facilities in Prague
NEPTUN Conference Hall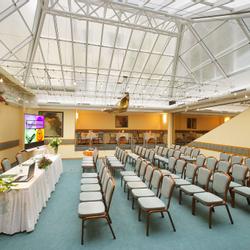 for 36 –120 persons
Situated on the first floor of the hotel, this bright conference hall enjoys plenty of natural light from the glass roof. It is possible to darken the room and optionally connect it with the PLUTON Meeting Room. Suitable for organising conferences, training sessions, banquets and corporate parties.
OUR TIP: A pleasant bright area making one feel good in it
11 x 10 m / Height 2.70 m/ 110 m2
---
PLUTON Meeting Room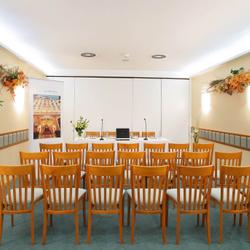 for 18 – 32 persons
A pleasant and cosy area offering the possibility of being divided with a soundproof wall. Ideal for staff meetings, small-scale training sessions and family celebrations. Fitted with the latest technological equipment, the room can be connected to the large NEPTUN Conference Hall.

OUR TIP: Enjoy a sense of privacy in a smaller area with an exquisite buffet
6.10 x 4.60 m + 4.60 x 3.50 m/ Height 2.75 m / 36 m2
---
FAMA Meeting Room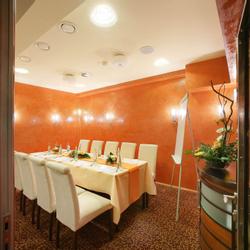 for 8-15 persons
Boasting an exceptional design and a pleasant atmosphere, this room is ideal for staff or business meetings. A 117 cm (46 ') LCD TV monitor easily connected to a laptop.
OUR TIP: End your business meeting with a great meal in our Triton Restaurant 1912.
4.40 x 2.90 m / Height 2.40 m /12 m2
---
TRITON Private Room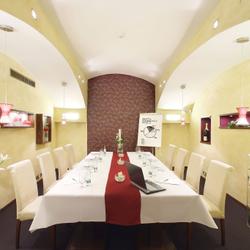 for 12–20 persons
An unusual interior in the historical basement of the hotel, fitted with the latest technological equipment. It is possible to connect it to the Art Nouveau Triton Restaurant 1912. Ideal for business lunches or private functions.
OUR TIP:Surprise your business partners with the exquisite menu from our restaurant and take them to our wine bar.
4.13 x 4.30 m / Height 2.70 m / 18 m2
---
JUNO Private Room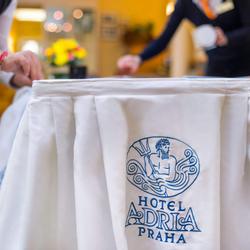 for 8-10 people
Situated on the second floor of the hotel and offering ample daylight, this classic-style meeting room commands views of Wenceslas Square. Suitable for business and staff meetings, as well as presentations.
OUR TIP:Order delicious refreshments from our kitchen to suit your palate.
4.3 x 3.30 m / Height 2.40 m / 15 m2
---
ECHO Internet Room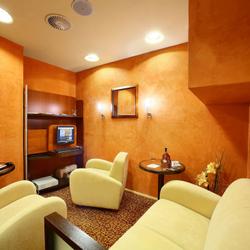 for 4 persons
A cosily furnished room equipped with a computer with internet access and printer. Suitable for private meetings or as an office where no one will disturb you.
OUR TIP: Take advantage of the excellent transport accessibility and invite your business partners or colleagues to ECHO for a quick business meeting during the day.
2.85 x 3.40 m / Height 2.45 m / 10 m 2
---
LUNA Cigar Club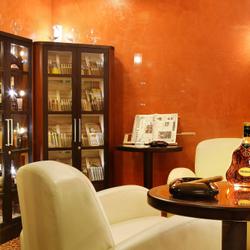 for 2 – 6 persons
A stylishly furnished room equipped with a humidor offering a wide range of cigars, where a "no smoking rule" does not apply. Suitable for private events or as an imposing environment for business meetings.
OUR TIP:Take advantage of the luxurious facilities of our hotel, order breakfast or lunch from the Triton Restaurant 1912 kitchen and have it served in the club.
4.45 x 2.30 m / Height 2.30 m / 12 m2
---
TRITON RESTAURANT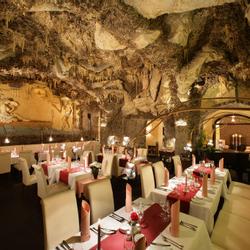 for 20 – 70 persons
An exceptional restaurant with a luxurious interior from 1912. An Art Nouveau stalactite cave with a rich history. Suitable for special occasions – banquets, celebrations, press conferences, tastings, corporate dinners. It can be connected to the TRITON Private Room.
OUR TIP: Surprise your guests by giving them the chance of visiting our designer wine bar and select for them some of our great wines.
8 x 7 m / Height 4 m / 56 m2

Official website
Book direct
​​
Renovated rooms in classic style